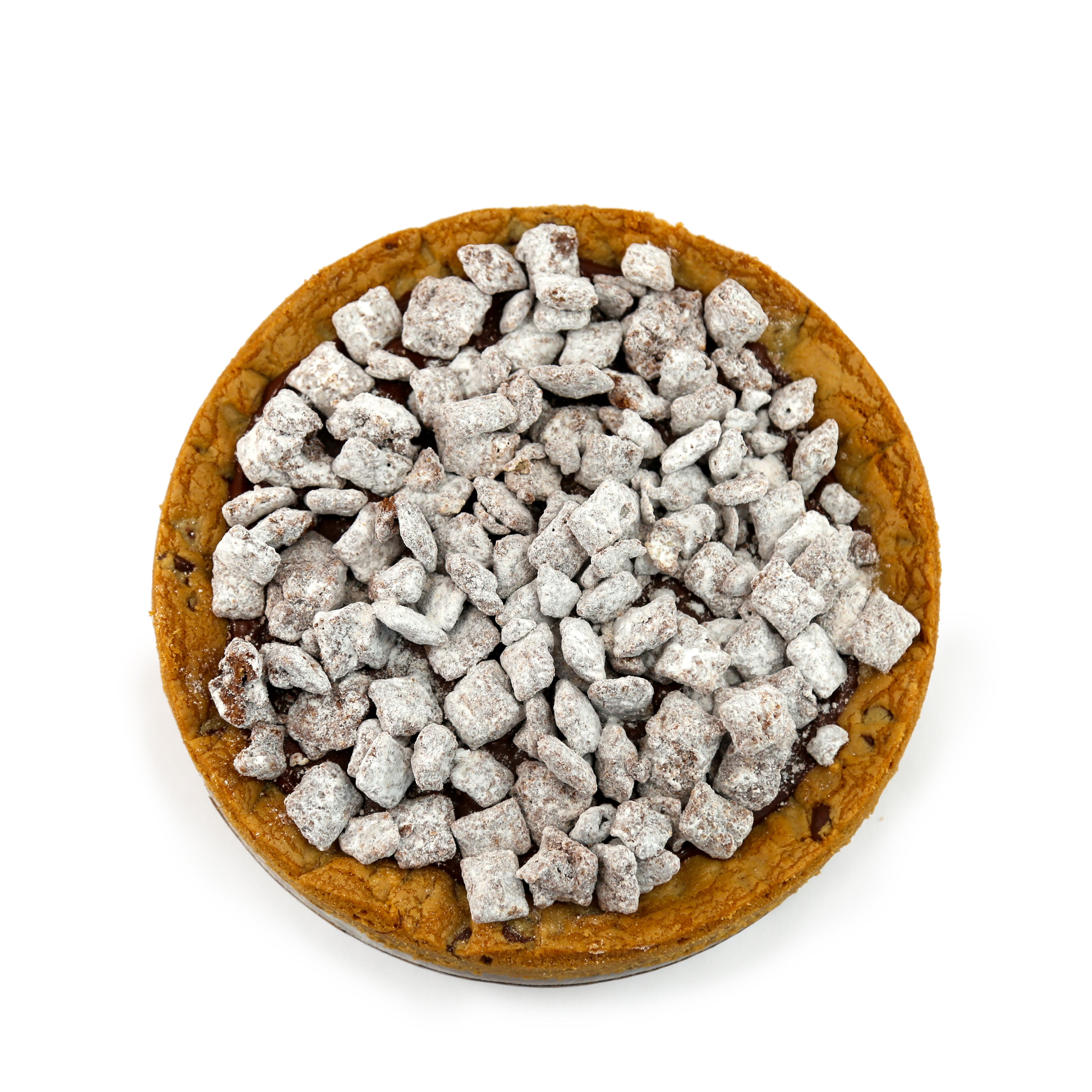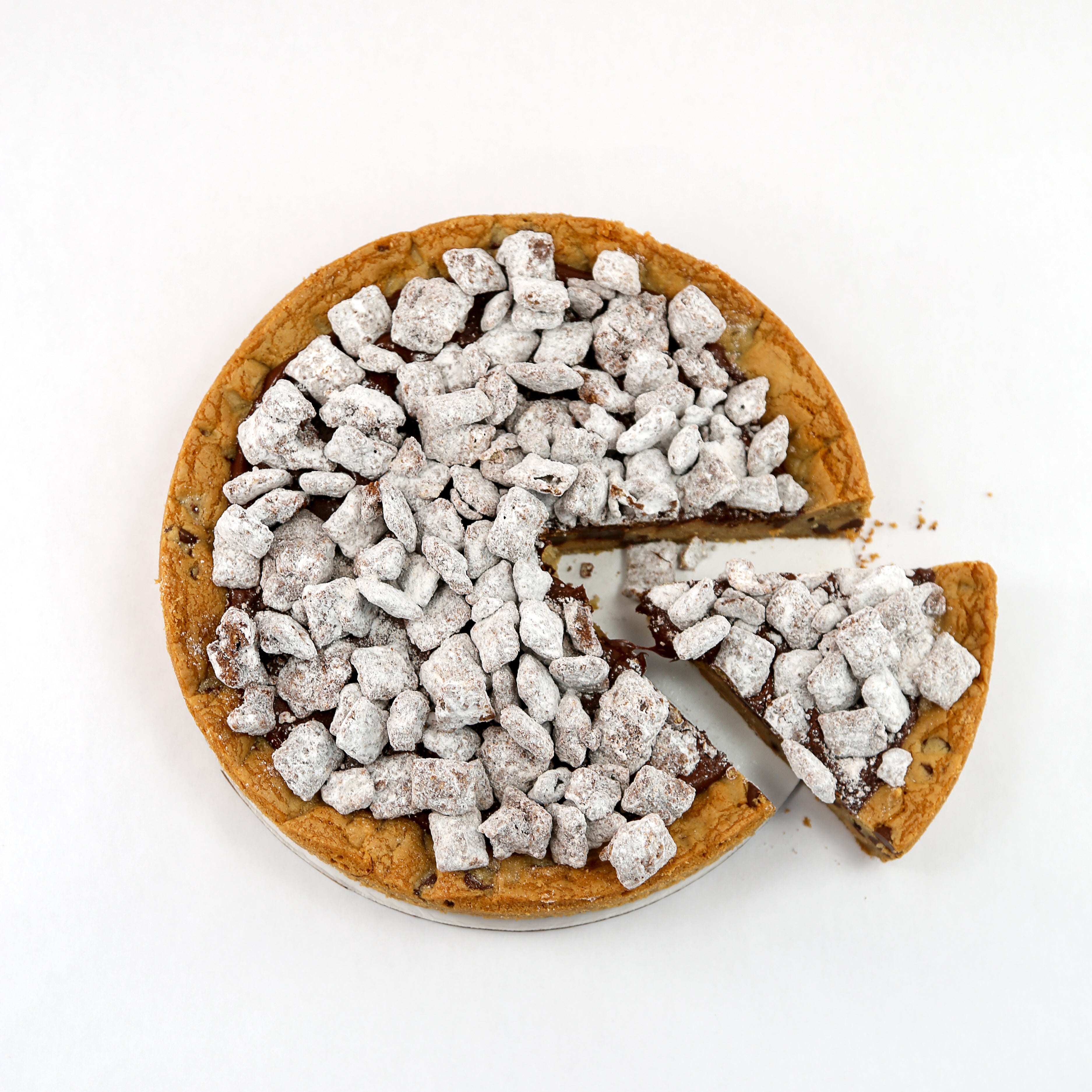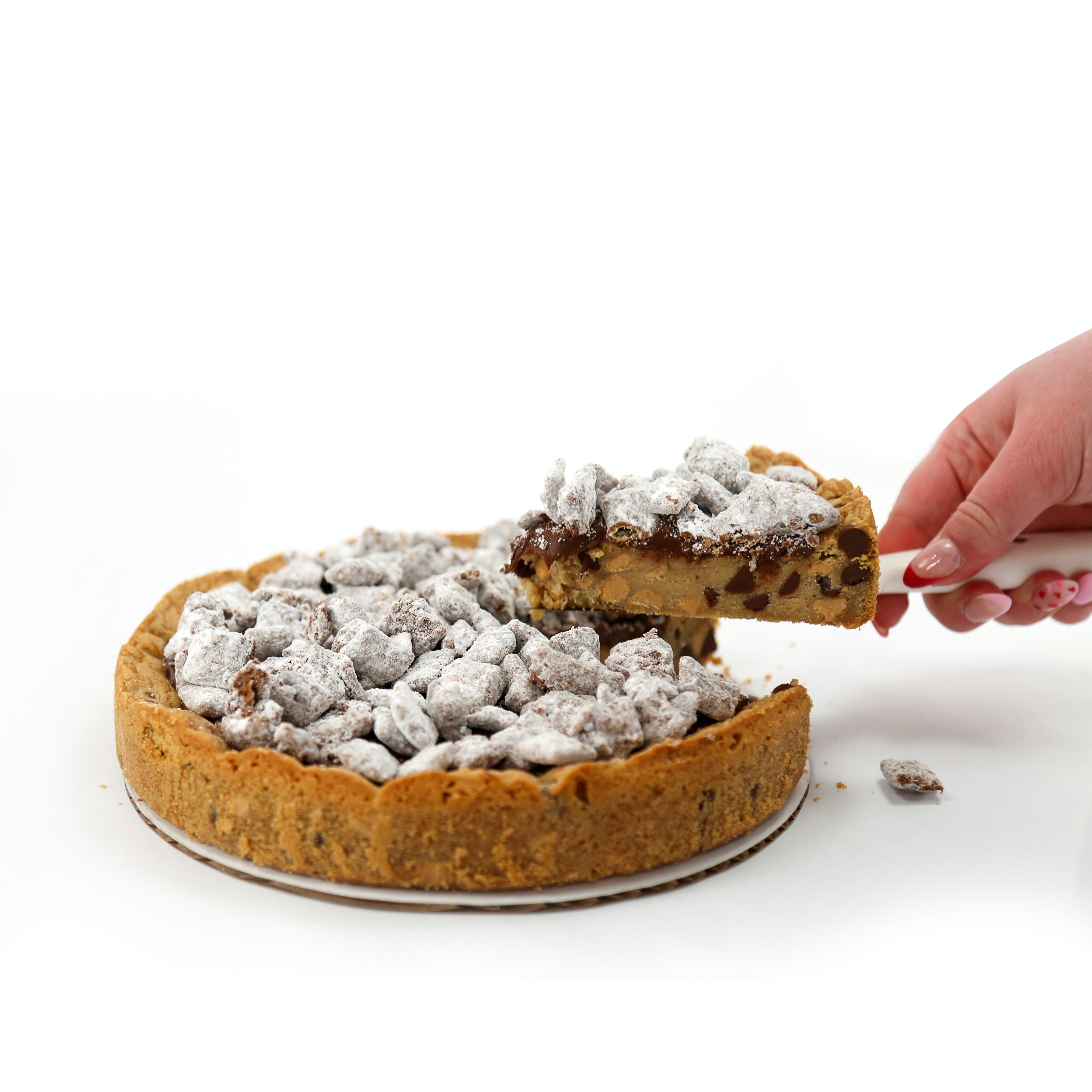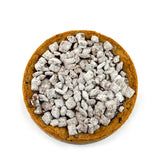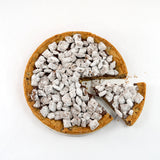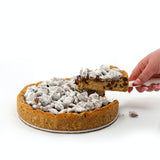 PuppyChow Cookie Cake
This cookie has all of your favorite components - a baked to perfection chocolate chip cookie loaded with semi sweet & peanut butter chips. Topped with melted chocolate & house made puppychow (also known as Muddy Buddies!).
This made to order cookie cake features a deep dish, 9" cookie cookie built from the very same chocolate chip cookie dough that makes our signature cookie - we add creamy peanut butter chips to the dough for the perfect chocolate peanut butter cookie dough treat! It's baked to cookie perfection - with crispy edges & a gooey center. 
Ships as a single 9" PuppyChow Cookie Cake. The cookie cake will come already topped with chocolate & mounds of PuppyChow topping. 
Please note* some of the puppychow topping may come loose during shipping - simply place back on top of the cake, warm up & enjoy!
Everything you need to know
All Purpose Flour, Salted Butter, Sugar, Chocolate Chips, Peanut Butter Chips, Brown Sugar, Heavy Cream, Eggs, Peanut Butter, Powdered Sugar, Corn Chex, Vanilla Extract, Baking Soda
You bet! Although, we always recommend enjoying your cookies ASAP. For the best results, wrap each cookie individually in plastic wrap, then aluminum foil & place in your freezer. To thaw, unwrap the cookie & place in a room temperature airtight container overnight. You can also warm them in the oven at 350 degrees for about 5 minutes from frozen.
How are my cookies packaged for shipping?
Each cookie is baked fresh the same day it is shipped & individually placed in a sealed cello bag. Each cookie is labeled & nestled in one of our beautiful pink mailing boxes. Cookies that have frosting, such as our Snickerdoodle Cheesecake Cookie will have the toppings packaged on the side with instructions.
How are my cookies packaged when I order for in store pick up?
All of our cookies are baked fresh daily & replenished throughout the day to ensure you get the freshest, most delicious cookies in the world! Each cookie is placed in a box for pick up.
How do I warm up my cookies?
Mmm...Warm, ooey gooey cookies. Is there truly anything better? To recreate that warm, right out of the oven cookie experience simply warm up your cookie:
Microwave | 15-25 Seconds
Oven | 2-3 Minutes At 350 Degrees
How long do my cookies last?
Our cookies will last for about 4-6 days as long as they are kept in a sealed, airtight container or their individual cello bag. Our shipped cookies are individually sealed and packaged. We recommend refrigerating your cookies upon arrival to preserve freshness. Just make sure you warm them up before enjoyed! We recommend the oven at 350 degrees for 3-5 minutes! Boxed cookies that are picked up in store can be transferred to an airtight container to preserve freshness.
What if I have more questions?
No problem! Shoot us an email us at help@Idreamaboutcookies.com
Amount per Serving: 410 Calories
* The % Daily Value tells you how much a nutrient in a serving of food contributes to a daily diet. 2,000 calories a day is used for general nutrition advice.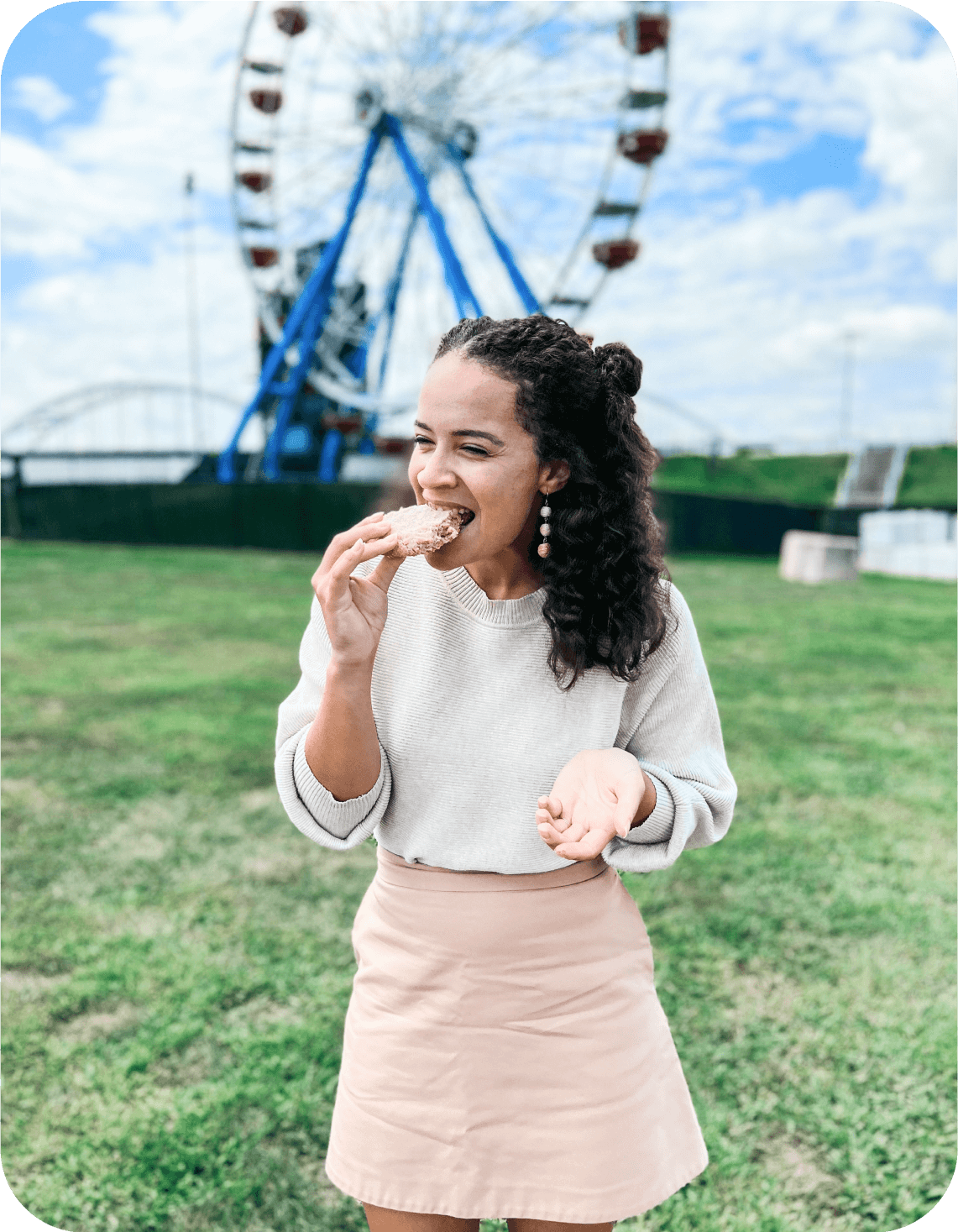 Baked fresh the day of shipping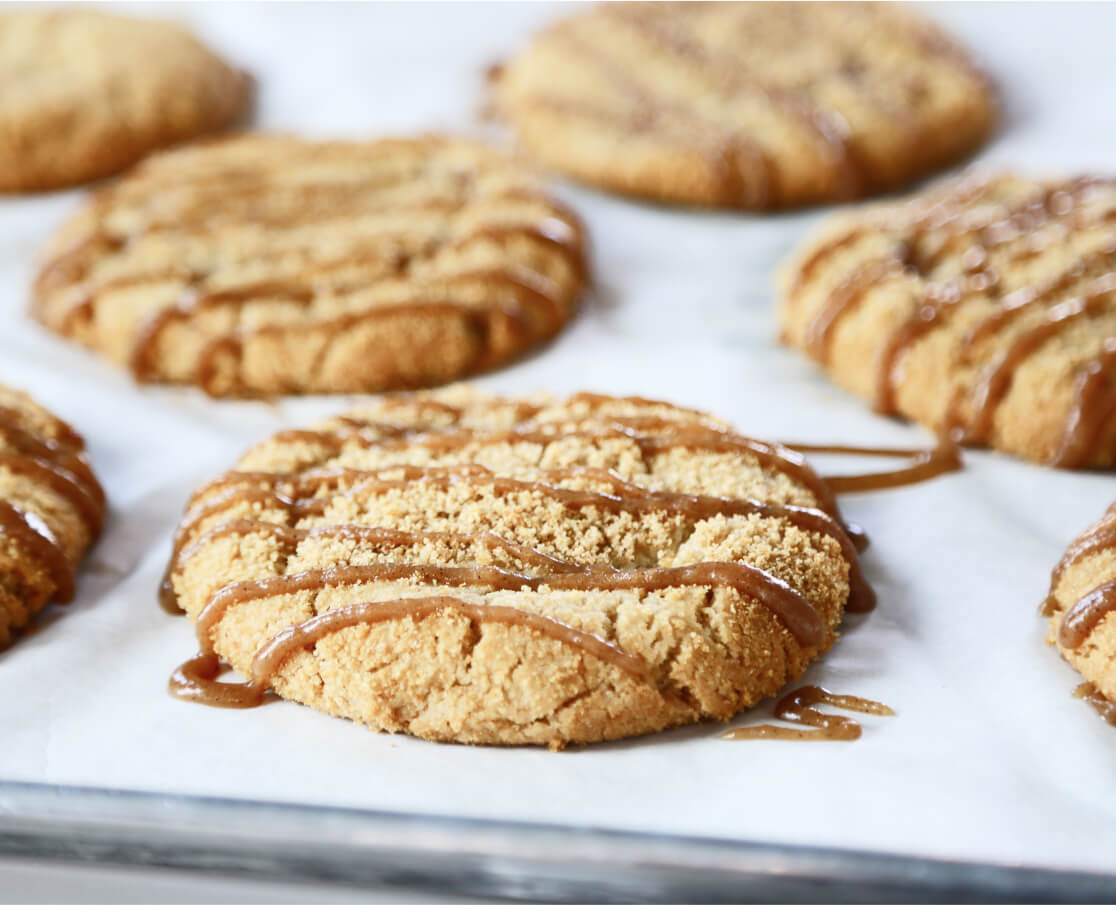 Baked fresh the day of shippingTo make sure you get the freshest, right out of the oven cookie experience, all of our cookies are baked fresh the day of shipping 2Day Express via FedEx or UPS. To avoid weekend delays that comprise freshness, we only ship orders Monday-Wednesday. Orders placed after midnight on Tuesday are shipped the following week. Please note that all orders require 2-5 days of processing time.
We ship to all 50 U.S. states and hope to ship internationally someday. Shipping is free for orders $60+. Otherwise, a single flat-rate shipping fee of $12 applies to all orders.
Packing Details
Each cookie is wrapped and sealed in an airtight, food grade cello bag. We use paper cushioning in our boxes for added security and our branded mailer box is tightly sealed for safety and freshness. Cookies that have frosting, such as our Snickerdoodle Cheesecake Cookie will have the toppings packaged on the side with instructions.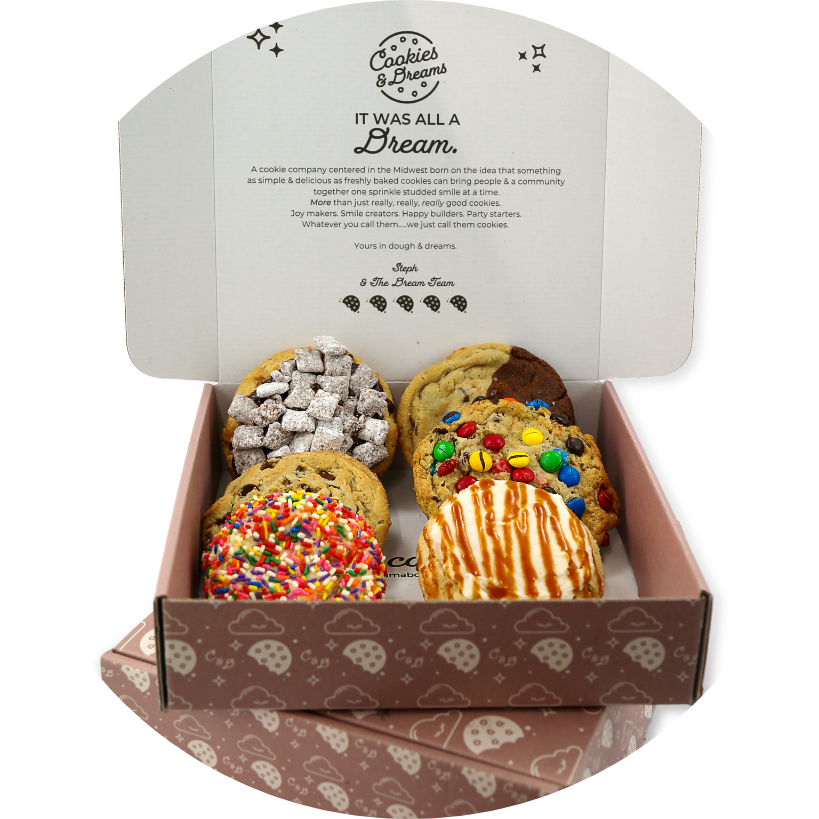 Ordering Tips
All orders are final and cannot be canceled or altered after they are placed so please take extra care to enter all of your details correctly and you'll be on your way to cookie doughpness in no time :)

Note: Unfortunately, all carriers are still experiencing delays due to the COVID-19 pandemic and we cannot be responsible for delays due to the carrier.

Pick Up and Local Delivery Options
Something went wrong, please contact us!